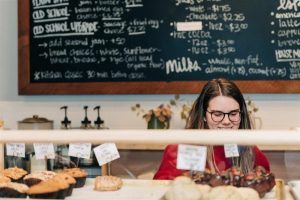 The top priorities in my life have always been my relationship with God, my family, and my business. The COVID-19 pandemic has not changed this part of my life, but at first, it left me torn. My top priority is of course wanting to keep our almost five month old, at home, and safe. But my husband and I also own a bakery.. and we were also in the middle of opening our new restaurant. This virus has forced us to put our restaurant's grand opening on hold, become completely short staffed, change our entire system with our customers, and put us in some of the worst positions as small business owners. All I kept thinking about is how am I supposed to stay indoors, and protect my child and my family, but also keep our small family business afloat? And then after I thought about that, I thought about how terrible I am for not just putting our daughter first without question… why aren't i thinking "who cares about the business right now!". Needless to say that at first, I had a bad attitude.
So my husband and I prayed. No one expects something like this to happen. Not to us. Not here. But it did. And who knows for how long. So we needed to quickly come up with a plan. Because unfortunately, we couldn't just say that we couldn't worry about the business. It's our livelihood. It's our only jobs. And with a small business, not only do we have to pay all of the business bills.. but we also somehow have to have enough to pay our personal bills as well. And our employees have bills, how could we not think about them? So with all of this racing through our minds, we just stopped.. and we prayed. I can't tell you how long my husband and I prayed for, but I suppose it was until we felt at peace.
Our plan my not be solid, but it's working! I've been staying at home and will continue to stay at home with our sweet baby girl, Esther. While my husband Tim, and a couple amazing employees who have been able to continue to help, will continue to go to the bakery and keep things going!
We absolutely LOVE all of our employees. And we wanted to make sure that they felt comfortable and safe! We gave them the option, and if any of them felt more comfortable staying at home, no matter the reason, then they 100% had that option; with their jobs ready for them when things are back to normal! We want to keep everyone happy, healthy, and comfortable! Whether that be our own family, our employees, or our customers. And we will do everything we can to keep it all going with all of that in mind.
Even though Tim and I felt more and more at peace with our decisions, there was still concern as to whether the customers would come. Sure we felt we had it all figured out, but that would all be for nothing if there was no one to purchase the pastries! But that quickly escaped our minds after we posted the first pre-order on social media. The orders flooded in! Wow how our community has blown us away. We're coming up on week three, and still our pre-orders have been a hit. To be 100% honest, our sales aren't what they used to be. Which is expected during something like this. But to be blessed enough to make anything AT ALL during something like this, it brings tears to my eyes. We are beyond thankful!
Our customers are everything to us. This community is literally what pays our bills. They're what keeps us going. They're the reason we get to wake up everyday and continue to do what we love, grow as a business, and follow our dreams. And for our customers (and even new customers!) to want to continue to support us (or come support us for the first time!), it's such an amazing feeling.
At first, we were filled with worry and fear! But as soon as we shifted our eyes on God, and focused on everything that is good, we realized how thankful we should be. It could always be worse. And our problems are nothing compared to how things could be. And who knows, things could get worse. But we will continue to shift in the direction that we need to. Because I can promise you, Three Twigs Bakery will stay standing. Biscuits + Brunch will eventually make its debut here in Springfield (on the corner of Chatham Road & Iles). And we will continue to focus on our love for God, each other, our daughter, our 3twigs family, and our customers.
We pray for all of our small business families everyday. And we will continue to do so even after all of this is "over".. because for a while, it won't be "over" for us and for our employees. But WE WILL get through this. We will rise above all of the fear, doubts, and worries! We will stand filled with joy and stronger than ever!
"For the righteous will never be moved, but will be remembered forever. They are not afraid of bad news; their heart is firm, trusting in the Lord. Their heart is steady; they will not be afraid, until they look in triumph on their adversaries." -Psalm 112:6-8