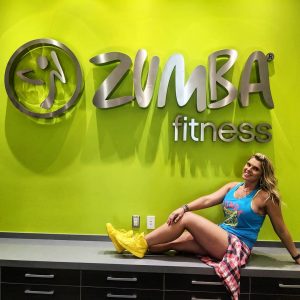 My name is Ali Griffith and I am a stay at home mom of 9&6 year old girls, and a fitness instructor in Springfield/Chatham. I have been teaching Yoga and ZUMBA for almost 8 years and STRONG by ZUMBA for 3. We have had a very structured routine for years balancing school and the 12-14 fitness classes I teach per week, and suddenly all of that changed. Our last day of normalcy was Friday March 13, I taught classes at the YMCA, picked up my girls from school and took my daughter out for dinner. My youngest wasn't feeling well and was diagnosed with influenza B the next day and we stayed home for days nursing her back to health.
During that time the YMCA closed and we were issued the Stay at Home order. At that time the participants of my classes started asking if I would be teaching online and at that time I wasn't prepared to do so and was worried about my kids school work and unsure of what my workplace had planned for the future. Instead I offered my ZUMBA, yoga and SBZ participants several online sites to visit to continue physical activity.
On March 18th I decided to form a Facebook group to bring my fitness friends together again. I thought I would post some yoga videos and give everyone resources to continue their fitness while we were sheltered at home. I had no idea how many people would be so interested in what I was putting on the page. With all the interest I had and knowing how a good workout can really change someone's psyche or mood for the day I decided to figure out how to make live streaming work. There is a lot technology out there today and social media makes doing live videos easy however all the music copyright issues associated with ZUMBA and STRONG by ZUMBA only livestreaming from certain platforms are legal. I reached out to some of my friends in the fitness industry across the country and started experimenting. After doing several trial classes with fellow local Instructors with different formats I settled on using the Zoom platform.

On March 21st I launched my first live streaming Zumba class and had around 50 people attend. We had to work through a few hiccups together but we all had a great time. On March 22nd I did a yoga video with my girls to show people how they could get their kids active while we are all at home. This video was picked up by www.louisvilefamilyfun.net in Louisville KY and also shared by my girls' teachers on Class Dojo. On March 23rd I launched my first Strong by Zumba which a HIIT format to music. With the launch of Strong I was able to offer everyone 3 different types of fitness to give them a full body and mind workout.

The group has grown to over 300 members in one week, we had 10 live classes the first week with over 400 in attendance. It makes me so happy to know I'm helping others make the best of these tough times and being able to connect with people near and far. We have all had to adapt our daily lives, I'm just so lucky to have this amazing group and the ability to keep doing what I love.
Stay safe and stay strong.